Blings Experience •
Best Practices | Video Marketing, Mar 15, 2022
The 10 Best Video Marketing Tips
If you're like most marketing professionals, you're always on the lookout for new and innovative ways to reach your target audience.
If you're like most marketing professionals, you're always on the lookout for new and innovative ways to reach your target audience.
And if you haven't already started using video content, you're missing out on one of the most effective tools at your disposal. We'll be sharing expert marketing video tips to help you create great video content.
Not sure where to start? Check out this detailed guide where we cover the best video marketing tips in detail.
What is a video marketing strategy?
If you've never done video marketing before, it can be daunting. However, having an effective video marketing strategy will definitely increase conversions and brand awareness.
In its simplest form, video marketing is the use of videos to promote and market products or services. More specifically, it is a type of content marketing that involves creating and sharing videos in order to achieve your marketing and branding objectives.
For example, you may create brand videos to raise awareness of your product or service, or create how to videos to educate your target audience about a specific topic. Whether you're creating product videos or brand videos, having a strategy is imperative.
The impact of video marketing is significant. When done correctly, it can help to build brand awareness, increase engagement and conversions, and boost your overall ROI.
Additionally, research has shown that including a video on a landing page can increase conversion rates by up to 80%. Obviously, there are many different factors that will contribute to the success of your video marketing campaign, but the potential impact is clear.
Whether you're just getting started with video marketing or you're looking for ways to take your campaign to the next level, there's no doubt that this type of content can be incredibly effective. The inclusion of video marketing efforts in your marketing strategy will allow you to reach a wider audience, engage with them on a deeper level, and achieve your business goals.
How are your competitors engaging with their customers?
Your competitors are engaging with customers using videos as a way to remain ahead of their game. These include some of the most popular social media marketing platforms:
Facebook Live Stream - Broadcasting an event live on Facebook.

Youtube Live Stream - Similar to Facebook, but on Youtube.
Snapchat Stories - Short videos that disappear after 24 hours.
Instagram Stories - Similar to Snapchat.
Facebook Stories - Similar to Snapchat and Instagram stories.
Facebook Reels - Up to 1 minute, vertical videos.
Youtube Shorts - Up to 1 minute, vertical videos.
IGTV - More than 1 minute, longer vertical videos.
Traditional videos - Traditional, horizontal videos on social media platforms.
Here are 9 tips to deliver video marketing success in 2022 and beyond:
Use storytelling to connect with your audience
Your consumers are bombarded with an endless stream of advertising messages. As a result, they have become immune to the hard sell and are instead drawn to brands that tell a story.
Stories have the power to connect with your audience on an emotional level, and they can be an extremely effective marketing tool. When done well, a brand story can humanize the company and make it more relatable.
It can also create a sense of loyalty and build customer relationships that last. For these reasons, brands need to focus on storytelling in their videos rather than always promoting their products and services. When customers feel like they know the brand, they are more likely to make a purchase.
You need to create impactful video content that has emotions attached to it.
Don't add too much information in one video
Using videos is a great way to promote your business or website, but it's important to remember that less is often more. Trying to stuff too much information into a single video can be overwhelming for viewers and make it difficult for them to process everything.
It's better to focus on one key message and make sure it comes across clearly. Otherwise, you risk losing your audience's attention and missing the opportunity to deliver your message effectively.
Your videos can be used to sell your unique value proposition, something that differentiates you from your customers. It could be excellent after-sales service, discounts, or even refunds.
Create content for a personalized experience
In a world where customers have nearly endless choices, it's more important than ever for brands to find ways to stand out from the crowd.
One way to do this is by creating personalized videos for customers. Personalized videos are a type of video content specifically tailored to the individual viewer. This might include using the viewer's name, location, or other personal information in the video.
Additionally, personalized videos can be created to target specific customer segments. For example, you may create a personalized video for first time visitors on your website's landing page.
By taking the time to create a custom video, you show that you value your customer and are willing to go the extra mile to provide a great experience.
When customers see a business has taken the time to create a video for them, they are more likely to be interested in what is being promoted. Creating personalized videos is a great way to show customers that you are willing to go above and beyond to provide an exceptional experience.
Personalization is the competitive edge your business needs to grow in today's era. But creating personalized videos or experiences consumes a lot of marketing budget and time.
As a CMO or a brand manager, time is of the essence here. It is vital to produce quality personalized content and that's where Blings comes in. It saves you time and lets you create unlimited personalized videos at scale to enhance your customer experiences.
People prefer to watch content rather than read words. Speaking in a video attracts your viewers' attention and increases brand awareness. Personalized videos have proven to boost sales by 19%, enhance retention rate by 68% and ramp up conversion rate by over 6 times.
Our platform gives you the ability to modify your content, design, and campaign data, with real-time personal control. A/B testing and detailed analytics will ensure that your campaign meets all your goals.
Our unique technology allows you to implement various interactive tools directly into your video, such as call-to-actions. Other than this, you get access to real-time analytics that show how your video is performing.
Quality Is the Key
Keeping up with the newest trends may be difficult in today's ever-changing landscapes.
You need to focus on creating quality video content for your customers. Video is one of the most popular forms of content, and it's only going to increase in the years to come.
A business that creates engaging, informative videos will be able to reach a wider audience and build trust with potential customers.
Not only that, but video can also be used to drive sales and increase conversion rates. For these reasons, it's clear that businesses need to invest in video content if they want to stay ahead of the competition.
Quality video content can help a business to stand out from the crowd, reach new customers, and boost sales. With so much to gain, there's no reason not to start creating quality video content for your business today.
Concentrate on the quality of the video rather than quantity. Although it may be tempting to produce as much content as possible, viewers are more inclined to watch high-quality, and engaging videos.
What type of videos can you create?
You can create videos covering a variety of purposes: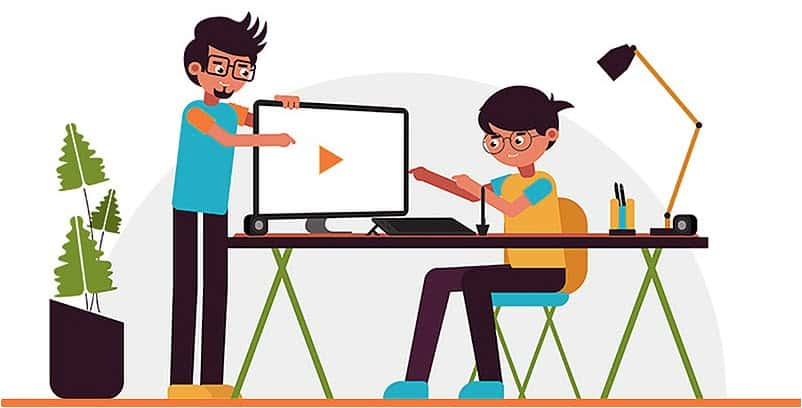 Explainer videos
How to videos
Brand awareness videos
Your video content strategy should encourage viewers to learn more about your offerings. Leverage the power of digital marketing funnel to understand your customer journey, and create videos accordingly.
Work With What You Have - Go Lean
Video production budgets have increased dramatically. Most cameras, lighting equipment, microphones, and production staff, can eat up your marketing budget. The post production of a video is not an easy process.
Don't let budgetary constraints restrict you from marketing videos. Use whatever you have and repurpose existing content to make a new one.
Many companies believe that making videos is expensive and time-consuming. The good news is that there are a number of ways to produce high-quality videos without breaking the bank.
For example, you can use smartphone cameras to shoot high quality footage. Additionally, there are a number of affordable video editing programs that make it easy to put together an engaging video. By being creative and resourceful, it's possible for any company to start incorporating videos into its marketing strategy.
Remain Relevant - First 10 seconds matter
10 seconds.
That's the average human attention span in 2022.
Is your content engaging within the first 10 seconds?
The average person only watches about two minutes of online video, so you need to make sure that your videos are interesting and engaging enough to hold their attention.
Brands can't get much traction without videos anymore.
Your audience won't watch the entire video if it isn't engaging. The best way to keep them hooked is by creating engaging videos!
Consider the example of fishing. If there is no hook, how do you expect to catch the fish?
In the same way, the first 5 to 10 seconds of your video matters. Take the example of Microsoft's "We All Win" ad campaign. The first 10 seconds hook you because there are kids from different backgrounds giving their introductions.
Include a Call To Action
To create successful video marketing campaigns, you have to understand and evaluate the effectiveness of your video marketing strategies.
Marketing content needs to have a call to action. You need you audience to take an action, and it could be downloading an ebook, subscribing to email newsletters, or claiming a 15% discount.
Many video hosting sites include analytics and can give you an idea of how your videos are performing. You can use these analytics to analyze metrics such as the number of times of video is played and the percentage of visitors who clicked the Call to Action.
The standard industry practice is to include a call-to-action at the end of the video. But by the time your video is finished, most of the people would have already left.
You need something in the middle where most of the audience is present to take action. However, don't overuse it. You may end up annoying your viewers. If the CTA does not fit naturally, don't use it.
Leverage Live Stream
The biggest digital revolution in the modern era has been the ability to live stream straight from your smartphone. No fancy office with a satellite connection is required to go live.
All you need is a reliable, high-speed internet connection, and some great content.
Leverage the power of Facebook, Youtube, and Instagram Stories to go live and connect with your audience in real-time.
If you are a digital agency or a business covering an important event, then going live on Facebook and Youtube would be the best option to create drive engagement, and increase the watch time of your social media accounts. Conducting frequent live sessions is a great way to build audience loyalty.
Examples of when you can go live on social media platforms:
Coverage of important events
Breaking news
Lectures/teaching material
Launch event
SEO optimize video for better reach and visibility
To improve your brand's reach and visibility, optimize your marketing video strategy. A well-made video can tell a story, evoke emotion, and introduce a product or service in a way that is both engaging and memorable.
However, for videos to be effective, they need to be seen by the right audience. Online marketing can help brands to increase the reach of their videos and ensure that they are seen by the people who are most likely to be interested in them.
Through targeted online advertising and social media marketing, brands can reach a large number of potential customers with their videos, resulting in increased leads and sales. Digital marketing can also help to build brand awareness and reputation by ensuring that videos are shared widely across the internet. By harnessing the power of digital marketing, brands can ensure that their videos have a far-reaching impact.
Here are some tips on how to do it:
Use proper thumbnails for videos to increase reach and visibility. Research states that 90% of the most popular videos contain a high-converting thumbnail.
Include call to action, keyword-rich titles, and descriptions for each video.
Ask people to share.
Conclusion
Video marketing is a powerful way to reach and engage customers. The tips we've shared should help you create effective and engaging videos. Have you tried any of these techniques? What results did you see? We would love to hear about your experiences with video marketing, so please share in the comments below.
Key Takeaways:
92% of mobile video consumers share videos with others.
76% of video marketers report an increase in sales thanks to stellar marketing video strategy.
TikTok has taken over the world of short video marketing, overthrowing Facebook and Instagram.
Videos can increase brand awareness and qualified leads by 54% and 66%.
Short-form videos (Less than 1 minute) gain momentum in 2022 for better reach and exposure.