Blings Experience •
Best Practices | Video Marketing, May 20, 2022
How to Increase Brand Awareness using Personalized Video Marketing?
A personalized interactive video is a powerful tool that can help you engage your customers. By allowing customers to select their own path through the video, businesses can ensure that each customer can increase participation.
What is an Interactive Video?
An interactive video is one that has interactive content with clickable hotspots to collect data. This means videos that are interactive, allow user participation in any phase of their customer journey when buying from a brand. It enhances customer experience from passive consumption, to active engagement.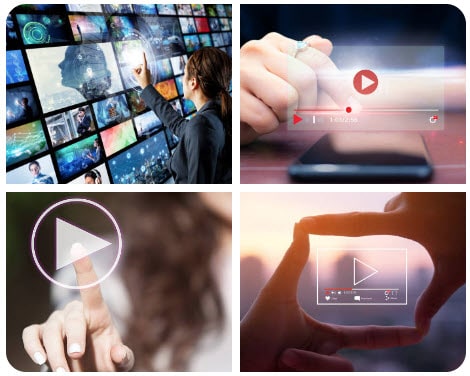 What is a Personalized Interactive Video?
When you customize each interactive video for different customers representing their previous interactions with your brand, this is called a personalized interactive video. This is more time-taking than simply creating interactive videos.
But the results are worth it.
This works great to improve customer engagement but also helps to build a deeper connection with them. By tracking customer interactions with the interactive video, businesses can gain valuable insights into their customer base. With this data, businesses can further tailor their videos to better meet the needs of their customers and take customer engagement to the next level.
However, it is important for brand managers and marketing teams to understand how to use customer data. Using a call-to-action at the end of the video in order to encourage the customer to take further action can boost sales.
By adding interactivity to your personalized video, you're giving your audience a way to engage with the content and the brand. Interactivity within a video includes buttons, input fields, selections, and much more.
For example, a viewer might be presented with two different choices, and depending on the choice they make, the story will unfold in a different way.
How to Create Interactive Video Experiences?
There are a number of ways to use interactive features to increase brand awareness. Here are some of the features of interactive content:
Quizzes
User Registration
Surveys
Image sliders
Games
Maps
The list isn't exhaustive. You can use any or a combination of these features to increase the video interactivity of your content.
Features of Popular Interactive Video Platforms
Here are some interesting features of a powerful interactive video software:
The best interactive video platform will have a simple drag and drop interface to easily add/edit/delete customer data.
It has an analytics dashboard with data such as viewer engagement to help you analyze video performance and understand the customer journey.
It can be played on multiple social media platforms and mobile devices.
It does not require coding skills.
It can take your existing video content and make interactive videos out of it.
It has interactive templates to cut down your time in creating interactive videos.
Creating Personalized Interactive Videos at Scale
Creating personalized videos isn't a problem. The bottleneck here is creating them at scale.
It's important to have a clear understanding of who your target audience is and what kinds of things they would be interested in seeing. Once you have a good grasp on that, you'll need to come up with a way to easily and efficiently create videos that are tailored to each individual.
Creating engaging videos is one of the most difficult tasks for businesses. It's hard to constantly come up with new ideas, film footage, and edit everything together into a coherent final product. We also understand that using online tools is not completely free.
Interactive videos are a great way to engage your audience and create a more personalized experience. But how do you create them at scale? Luckily, there are a few easy ways to do this:
Brainstorm ideas as a team and establish a pool of potential topics to draw from.
Develop a shooting schedule and plan out what footage needs to be collected in advance.
Use an interactive platform that allows you to customize the content for each viewer. This way, you can ensure that each person sees the content most relevant to them.
Use existing videos and overlay them with interactive elements to create new interactive video content at scale. This way, you can still provide a customized experience for each viewer without having to film new footage for every version of your video. Additionally, this method is great for adding in poll questions or other types of interactivity after the video has been filmed.
Create interactive videos by incorporating user-generated content. This could include using social media posts or comments in your video or using footage from events or meetups that your audience has.
Once you have your system in place, it's simply a matter of creating new videos on a regular basis and pushing them out to your audience. If done correctly, this can be an extremely effective way to generate personalized video content at scale.
Video platforms like Blings.io, allow you to create a personalized interactive video to target customers at every stage of the sales funnel.
How to Engage Customers with Personalized Interactive Videos?
Whether it's for LinkedIn prospecting, sales video messages, video campaigns, interactive video ads, or onboarding customers, adding interactive elements builds trust with your customers. If you have enough time and money you can create each one individually but for it to be scaleable, you need the right video editing software that allows you to create interactive videos based on customer data.
Here are some of the ways you can engage with customers:
Use an interactive video platform
19% increase in sales and 16x higher click-to-open rates. That's the magic of creating personalized interactive videos for your business.
An interactive video platform has a database of customers from which the platform pulls relevant data for each, and generates interactive videos relevant to each customer. This is how Blings operates. Our AI pulls customer data from the database, and generates interactive video for each customer.
Want to create videos that make your viewers feel special? It is important to use an interactive video platform that cuts your time and effort in mass-producing personalized videos.
Blings is an interactive video software with a patent-pending MP5 technology that allows you to create personalized interactive videos at scale.
If you haven't, now is the time to sign up and get a free trial of our platform. See why Mercedes Benz, is using our revolutionary technology.
Gather customer data and communicate your brand's story
Storytelling helps your brand in connecting with your customers. Your sales and marketing teams can answer questions and convert leads into sales through personalized videos.
This can be achieved by having clickable elements such as a CTA, logo, and your company's color scheme.
Using interactive elements in a video boosts conversions and builds brand awareness.
Interactive video platforms such as Blings allow you to change CTA and have custom colors that suit your brand
By having more data, you can improve the customer experience at all digital touchpoints. This will help you in optimizing your digital marketing strategies by creating custom messages adapting to your customers' desires, objects, and expectations.
Show relevant content
Customer onboarding videos, presentations, and educational content help you in showing relevant content directed toward your audience. Interactive videos also help you in adapting your customers' needs and improving revenue with specific actions.
If you're a B2B SaaS company, your best chance to remain competitive is by utilizing a personalized interactive video. Let's say someone signed up for a 14-day trial. Instead of throwing all the FAQs and videos at them, make an interactive video specifically tailored for a group of trial users. If the user is an enterprise client, individual attention is definitely required here.
It doesn't matter where your customer is in the sales funnel, using interactive videos will boost engagements at all times.
How Does Interactive Experience help Drive Audience Engagement and Revenue?
Attract and retain clients
It helps in attracting and retaining new clients, as well as upselling to existing ones. Leverage the power of data and analytics to resonate with your audience, and create meaningful positive impressions. By showing that you are willing to go the extra mile to provide them with content that is relevant and interesting, you can solidify your position as their go-to source for information and products. Interactive content helps to keep users engaged, increasing the likelihood that they will continue to use your site or product.
Using personalized interactive videos should be an integral part of the overall customer experience (CX). It dramatically reduces cost, time, and effort in helping customers. Videos can be used to address common customer service issues, such as answering frequently asked questions or demonstrating how to use a product.
In turn, this can lead to increased customer satisfaction and loyalty.
Quick-start guides, onboarding tutorials, installation tips, and frequently asked questions are just some of the areas that can be turned into an interactive video to improve customer service.
Video is worth 1000 words - by demonstrating in the video, you're giving your audience a boost in solving their own problems. It also increases the likelihood that they will be able to solve their next problem, reducing the strain on the support team. If the team is getting the same support question over and over, recording a video will streamline the support they give.
Conclusion:
By using personalized interactive videos, you can create content that is both helpful and engaging for your customers. This type of video marketing allows you to connect with your viewers on a more personal level, which can result in increased sales and loyalty. If you're looking for a way to take your video marketing strategy to the next level, consider using personalized interactive videos.
Key Takeaways: