Michal Wachstock •
Best Practices | Video Marketing, Jan 10, 2023
Video Marketing Benefits: Everything You Need To Know
From advertising to establishing customer relationships, videos are an accessible and powerful addition to any marketing strategy. Here, we look at video marketing benefits and facts you should know about.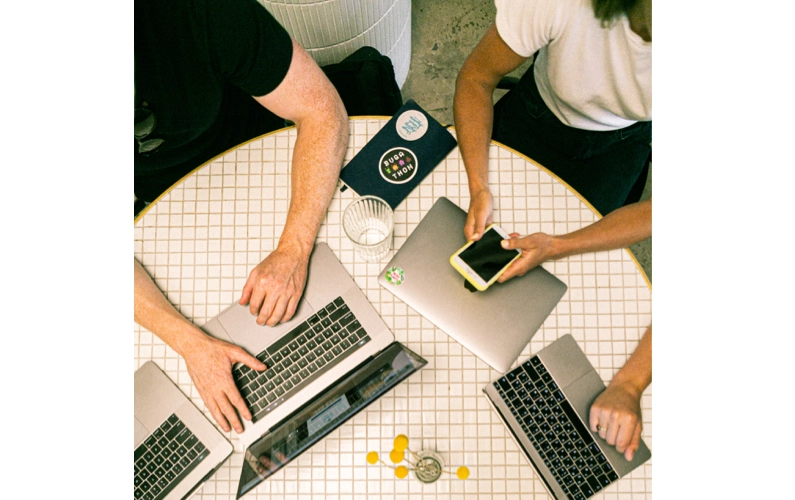 Today, video is everywhere. We watch it for fun and education, and it allows us to communicate and preserve our memories.
Video is gradually replacing written content and becoming the preferred medium for entertainment, learning, and communication.
This means that you should add videos to your digital strategy as soon as possible. Otherwise, you're losing endless video marketing benefits and risk being left behind by your competitors.
And, if you think this is unlikely - think again. 86% of businesses are already utilizing video and harnessing video marketing benefits.
However, you are probably here because you still have doubts about whether using video to promote your company is worth it.
The short answer is yes. It is worthwhile. Not just because it's popular but also because video in digital marketing is one of the most versatile and effective tools available.
Here are some more video marketing benefits and reasons why you should start using it now.
Why is video marketing important?
To stand out in a crowded market, you must create a lasting impression on your audience. The most effective approach to accomplish this is to tell them a fascinating story that will elicit their emotions and motivate them to take action towards your brand.
And what better way to tell a story than by combining a compelling narrative with stunning visuals? The video truly is the perfect storytelling tool.
The advantages of video marketing go beyond channeling unique, persuasive messages.
Surveys state that video marketing benefits include the increase in:
Brand awareness.
Website traffic.
Sales.
Simply said, videos contribute to nearly every aspect important for modern business success. They allow and encourage interaction with prospects and customers across several platforms.
Most importantly, there are numerous ways for you to start successfully using videos to attract your target audience and enjoy video marketing benefits.
Why is video marketing so effective?
Video marketing is so effective because it appeals to people's desire to explore, learn, shop, and communicate in an engaging way.
Here are some more reasons why there are so many video marketing benefits:
Short Attention Spans
The average adult's attention span is about 8 seconds. This implies you have just a few seconds to make an impression on your audience. Sensory stimulation can help you with that.
Video marketing combines audio and visual cues to draw people in before their attention shifts elsewhere.
Compare this to lengthy written content. Your audience may quickly get bored or frustrated because they'll have to invest more time and effort to find the information they're looking for. Videos prevent such scenarios by providing customers with a quick and entertaining way to learn about your brand and offer.
Captivating And Interactive
People process visuals 60.000 times faster than words! Additionally, users remember 95% of a message while watching it, as opposed to only 10% when reading it.
This demonstrates that video is a far more captivating medium than text. And statistics aren't the only thing that points to these video marketing benefits.
When you watch a great movie, do you develop an emotional bond with the characters on screen?
This is what video provides: an emotional connection with your target audience. Seeing the human side of a brand may be a significant motivator for prospects to choose your brand. Also, you may use videos to develop brand authority by sharing useful information with your audience and presenting yourself as an expert in your area.
Videos can be particularly effective if you engage viewers with interactive video elements.
With Blings, you can create highly interactive videos that engage viewers with clickable buttons to boost engagements and conversions.
Top 5 Video Marketing Benefits
Now, let's take a closer look at the top five video marketing benefits.
Boost Conversion Rates
To begin, one of the most important video marketing benefits is that videos can significantly boost your conversions.
More precisely, streaming service Globoplay increased its conversion rate by 175% with Blings videos! They utilized landing page videos that provided viewers personalized content and CTAs to encourage conversions.
In addition to this example, 84% of customers stated that branded videos influenced their purchase at some point.
The reason is simple: customers prefer to see products in action before buying. Videos help people better understand the offer, thus increasing their confidence in the deal.
Improve Email Marketing
Getting subscribers to open your emails can be difficult in today's information-packed world. But, although it might not seem like it at first, video marketing benefits your email marketing efforts.
You may increase email open rates and decrease unsubscribes by including the word video in the subject line! Also, adding videos to emails raises the click-through rate by a whopping 200-300%!
Blings employs our video technology to stand out in cluttered inboxes. Our interactive videos within the emails communicate clear and persuasive messages contributing to an outstanding 63.4% open rate!
Great For SEO
Another significant element of video marketing benefits is that search engines love videos.
In recent years, algorithms are favoring websites with video content, thus positioning them higher on search engine results page. This makes it even more crucial for your business to incorporate video into your marketing plan and start receiving all of the video marketing benefits.
High-quality video content can pique customer interest and boost engagements, which can increase traffic to your website. Additionally, compelling videos contribute to longer visitor sessions.
So, make sure to optimize your videos and leverage these video marketing benefits.
Some helpful video SEO tips:
Include relevant meta tags.
Create catchy titles and descriptions.
Use scripts so bots can more accurately "read" your content.
Add interactive video elements to entice potential customers further to take action.
Reach Decision Makers
If you're in the B2B industry, you know that management-level professionals are often loaded with reading materials. Presenting your offer with a video can be a nice break in their schedule.
Videos allow decision makers to receive your message in a convenient manner that will set the right tone for your offer. They also enable you to quickly establish strong relationships with your prospects and positively impact purchasing decisions.
Furthermore, when given video and text content on the same page, 59% of senior executives choose to learn about the offer from the video. So, present them with what they want! Create videos that capture their attention and ensure you reap video marketing benefits.
Amazing Future Opportunities
Technology is constantly evolving. Most certainly, videos will continue to develop as well. And, given their current popularity, it's definite that they will gain even more traction.
It's essential to start utilizing video marketing immediately so you can improve it as the technology develops.
Just think about all the possibilities! Many trends we've (not so long ago!) considered "futuristic" are already becoming a reality.
With the increased use of virtual reality, augmented reality, and holograms, now is a perfect moment to get started with video content and stay current with the newest practices. This way, you can be confident that you will continue to reap the video marketing benefits and keep up with the market as technology changes.
Harness Video Marketing Benefits With High-Quality Videos
With the above-mentioned advantages of video marketing, it's clear that video truly is an essential part of any marketing strategy.
From increasing your conversion rates to driving more website traffic, you now have all the right reasons to start creating your branded videos.
However, as a video production company, we know that video development requires time and dedication. We are here to support you in creating high-quality videos that will bring real value to your business.
Contact us to learn more about video marketing benefits and start harnessing them now.